Kwan Cheatham marks Akrons third in-state commit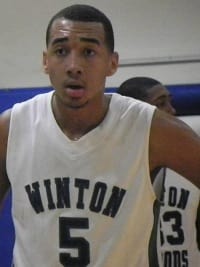 The Akron Zips are making an effort to dominate in-state recruiting in the Ohio heavy MAC conference. Coach Dambrot and his staff took one big step closer to that goal on Monday evening with the commitment of 2013 forward
Kwan Cheatham
.
A versatile 6-foot-9 prospect out of Cincinnati Winton Woods, Cheatham is the third player in Ohio's 2013 class to pledge to Akron; joining Cincinnati Walnut Hills center
Isaiah Johnson
(who verbally committed last week) and Columbus Gahanna Lincoln wing
Aaron Jackson
(who committed just ten days ago).
Cheatham chose the Zips over offers from Kennesaw State, Miami (OH), Kent State, Bowling Green, Ohio University and Cleveland State; although it is generally considered that the Owls of Kennesaw State finished second in the recruiting battle.
Despite being a high school senior, Cheatham just recently turned 17 years old; making him one of the youngest players in the state in his class.
Just minutes after committing to Akron, Cheatham chatted with Rivals.com about his decision to head to college next year; instead of going the prep school route to develop his game more, as most prospects who are young for their grade do.
"At a point in time I considered going to prep school," Cheatham told Ohio Preps, "But I decided that I'm ready to just go to college and see what happens for me."
After taking an official visit to Akron last weekend, his only official visit that he will take, Cheatham decided that he had seen enough and made the call to the coaching staff on Monday night to inform them of his decision.
"After going through the visit and talking to the coaches and players I felt really comfortable with the situation at Akron," said Cheatham.
"The way Coach Dambrot explained the style of the program and the opportunities for me I just knew that Akron was going to be where I ended up choosing to go."
For being such a young prospect in his class Cheatham is one of the more skilled forwards who was still available in the Buckeye State.
Even at 6-foot-9 Cheatham is a high level three-point shooter who loves to spot up in transition or in the pick-and-pop game. With a long wingspan and a smooth, high release Cheatham's ability to stretch the defense should fit in perfectly with what Akron likes to do with their bigger shooters.
"I feel really good about my fit in the program and I think that I can go in and bring some valuable minutes," Cheatham said,
"My ability to pick and pop is going to help them a lot. I want to get stronger so I can take smaller four men into the post."
As the coaching staff at Akron continues to become the leader in recruiting their state more connections are being made between future players. The Cincinnati and Columbus areas in particular are regions that the Zips staff have targeted in this 2013 class. With Cheatham committed Akron now has two players who previously played in the same high school conference (until realignments left Cheatham's Winton Woods school without a conference this year) as fellow future Zip, Johnson.
That relationship with Johnson, and a familiarity with Jackson and some current Akron players, who are Ohio AAU alumnus, helped Cheatham feel more comfortable with choosing Akron. Knowing that those prospects are also players capable of getting wins at the college level was just the icing on the cake.
"Knowing that Isaiah Johnson was committed helped in my decision because not only is he a friend but he's a big body. They have a lot of big guys, which is good for me because I can play my natural face-up four game."
As he continues to add to his game, and fills out his long frame, look for Cheatham to become a potential impact player in the Mid American Conference.